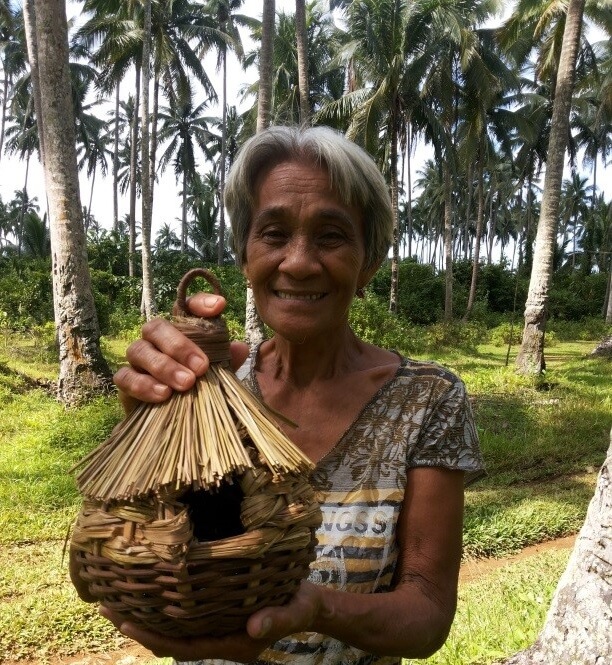 V. Abisamis Handicraft
Tayabas, Quezon
One of the oldest partners of CCAP, Mrs. Adela Masongsong started her handicrafts business in her community at Tayabas, Quezon in 1978.  They specialize in the creation of birdhouses, nativity houses, Christmas trees, baskets and vines. The raw materials they used are rattan, hagnaya, galtang, crazy vine, and assorted woods.
Since CCAP's partnership with them in 1978, Masongsong Handicrafts grew, with many members of their community joining them as a source of livelihood for their daily needs.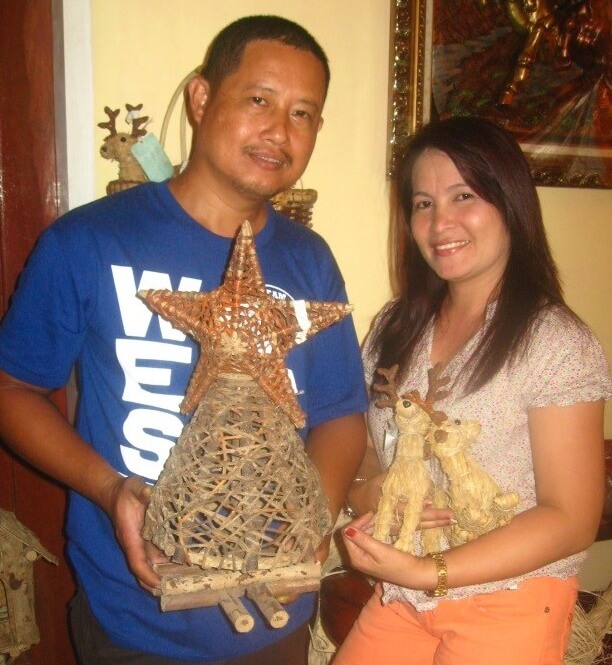 Masongsong Handicraft
Tayabas, Quezon
V. Abisamis Handicraft is a business owned by the husband and wife team of Vicente and Florisa Abisamis.  It began in 1995 when Vicente took over his uncle's original handicraft business.  Since then, they have provided jobs to their townsfolk and helped showcase the talent of the people in their hometown of Tayabas, Quezon. Starting out with just five workers, the team eventually grew to the current 20 who create baskets, birdhouses, ornaments, Christmas decors, lampshades, wireframe baskets and floor lamps made of indigenous materials.  These materials include rattan, vines, wooden poles and barks, abaca, coco husk, cornhusk and coco leaves.
As a partner of CCAP, they enjoy benefits such as getting more orders through CCAP's network of buyers and gaining a competitive edge through CCAP's regular trainings and seminars.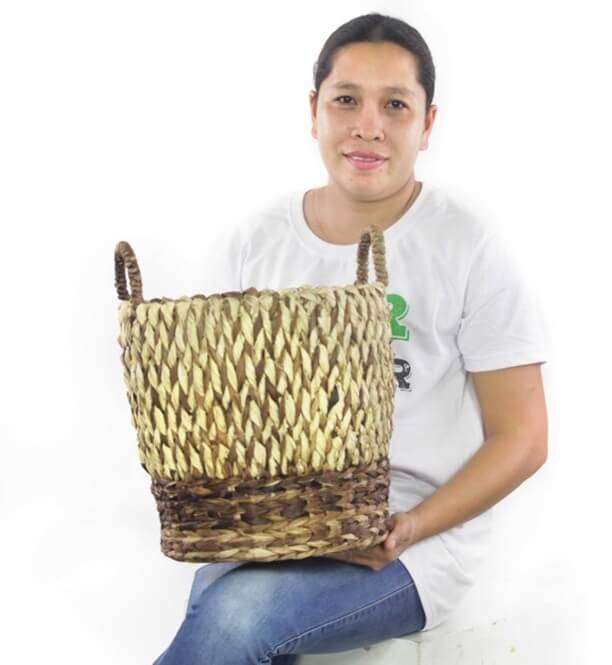 Bukluran sa Kabuhayan
Albay, Bicol
The Bukluran sa Kabuhayan is one of the newer organizations to become part of the CCAP. It was formed in November 2007 with the help of the National Housing Authority and the Young Men's Christian Association in order to provide jobs to the unemployed in its community, particularly women. Using materials such as abaca fiber, yarn, and seagrass, the group creates baskets, bags, placemats and doormats.
CCAP has helped the Bukluran sa Kabuhayan achieve its goal of job-creation by helping the organization find markets to sell their crafts, and provide business trainings and seminars to its members.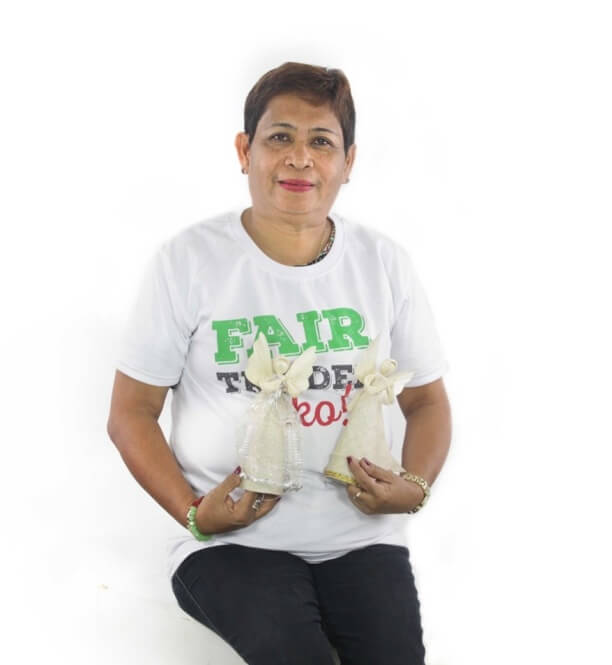 Salve's Handicraft
Albay, Bicol
Salve's handicraft is a newly recognized CCAP partner this 2015. Ms. Salvacion Patriarca, the owner of the handicraft business was once a member of CCAP's assisted organization. She started her own business in January 2015, seven years after the said organization was disorganized. She decided to have her own handicrafts business in order to help women in her community in Guinobatan, Albay. At present, she has 10 female workers who have been making Abaca Angels since the 1980s. Their product is made of indigenous materials including abaca, fiber mats and sinamay.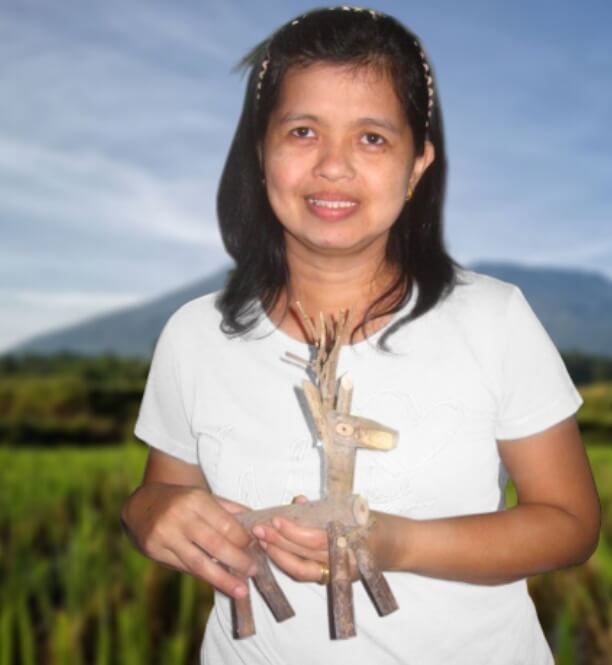 ARP Handicrafts
Tayabas, Quezon
ARP Handicrafts is managed by the third generation of the Pontioso family in Quezon.  The family has been in the handicraft business in the 1980s managed by the older Pontioso then handed on to his wife Rosita when the older Pontioso died.  Now on her retirement, Mrs. Rosita transferred the business to her daughter Mrs. Aireen Pontioso-Pelagio. The group specializes in making birdhouses, planters, and other houseware items using vine, tistis, and bamboo materials.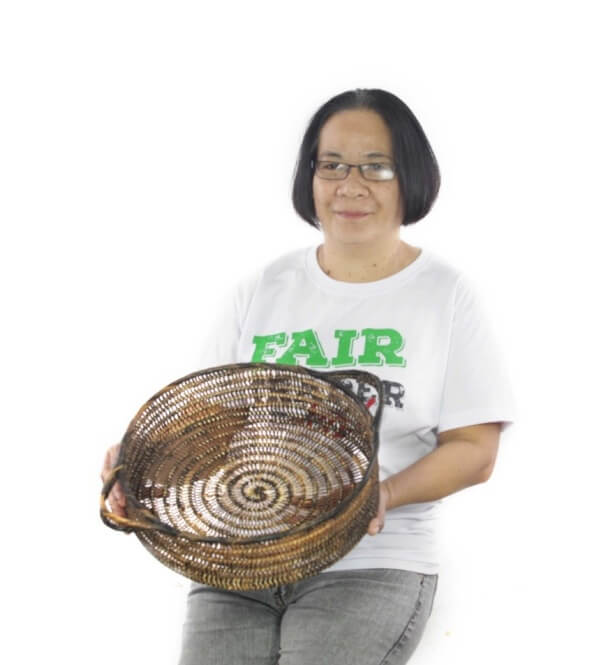 Elena's Handicrafts
Gasan, Marinduque
Ms. Elena Paragas started as a handicraft worker in the late 1980s making decorative items sculpted from softwood. Soon, she married the son of her employer who later transferred the craft business to her in 1999. There, they expanded their product lines to baskets, boxes and packaging items made of nito vine. Through her income from the craft business, Elena was also able to set-up a small sari-sari store which supplies her neighbors with rice, poultry supplies and fishing gears. She also gives credit assistance to her workers.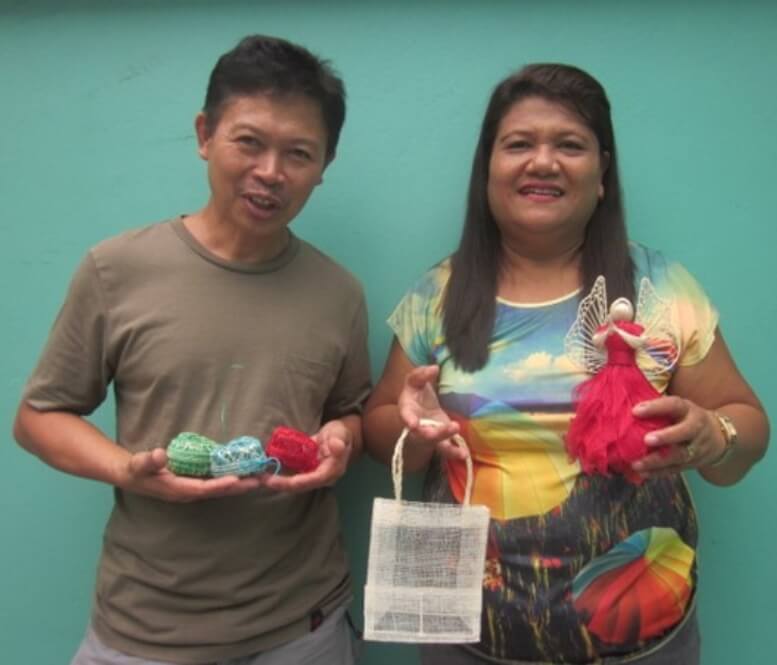 Handy Wire Frame Handicraft
Albay, Bicol
Luzviminda R. Llanera founded Handy Wire Frame Handicraft in 1990 with only five workers doing wireframes.  It then expanded further in 1995 to 15 workers and marketed abaca finished products locally. Luzviminda R. Llanera founded Handy Wire Frame Handicraft in 1990 with only five workers doing wireframes.  It then expanded further in 1995 to 15 workers and marketed abaca finished products locally.
The company currently has over 100 workers with 15 area coordinators.  The CCAP provides them with incentives and training in various areas including product development, costing and management techniques.  Aside from that, the partnership also enabled Handy Wire Frame Handicraft to sell to the world market.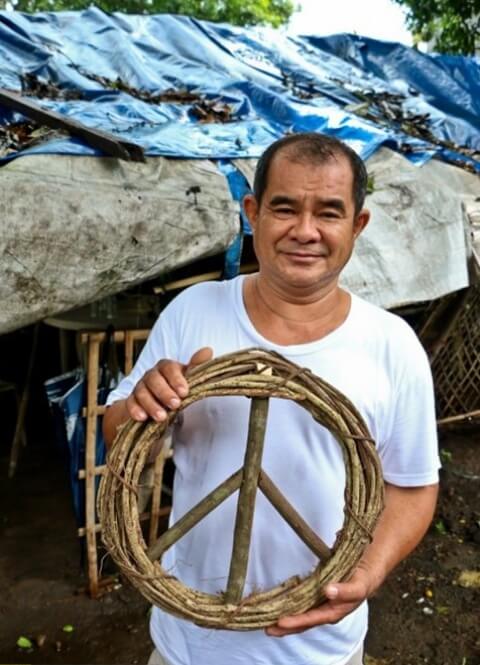 Castro's Handicraft
Pulilan, Bulacan
Virgilio Castro, current head of Castro's Handicraft's located in Pulilan, Bulacan, has always liked craft-making even during his teens. It's a passion that led him to venture into handicraft making after taking his friends' advice that there is money to be earned in this industry. Out of materials such as cocofiber, vine, abaca fiber and banana leaves, Castro's Handicraft creates rabbit and squirrel figurines and peace signs out of wood and vine.
With the CCAP's help – a fruitful partnership that started in 2008, the group has received financial aid to buy materials and pay their workers' wages.
"Our income increased as the volume of orders also increased which in turn help more our workers.  The trainings and services   given by CCAP is also a big help to us."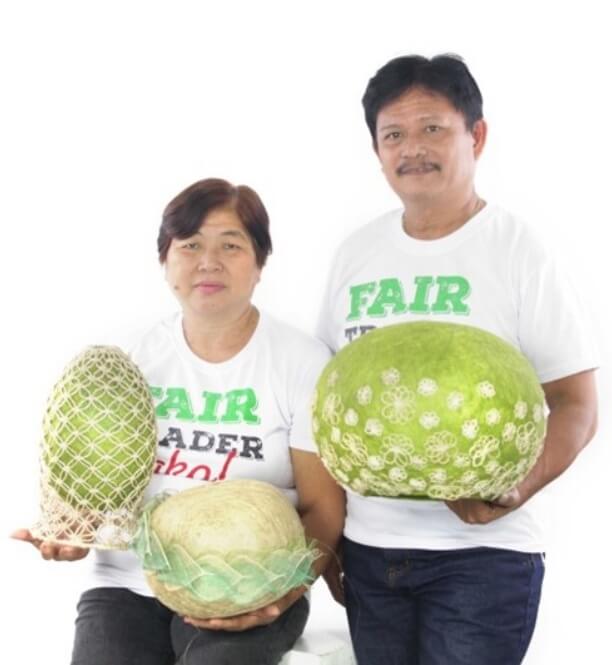 Jun-Abe Crafts & Souvenirs
Albay, Bicol
Mr. Felix Magdaong's interest in trading goes way back to his high school when he engaged in the buy and sell of raw materials.  He started Jun-Abe Crafts & Souvenirs with his wife, Abe, in the 1980s with 10 workers and supplied abaca products to different exporters. Their handicraft products range from simple abaca lamp balls to décor, houseware and packaging items using abaca, Sinamay, Lupiz and corn husk.
He was introduced to CCAP by another producer in 2004.   Through attendance to trainings such as product development and costing, house and later built their warehouse for storage of raw materials and finished goods.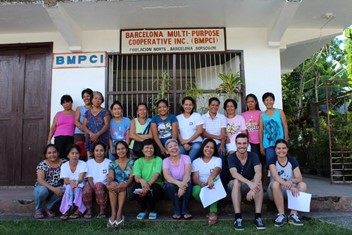 Barcelona Multi-Purpose Cooperative, Inc. (BMPCI)
Sorsogon, Bicol
Established in 1991, the Barcelona Multi-Purpose Cooperative, Inc. or BMPCI in Sorsogon aims to improve the livelihood and well-being of the members through the production of quality crafts which can be traded fairly in domestic, and international market.  They use Buri, Karagumoy, Moras and Bacbac raw materials for the production of boxes, placemats, pencil cases, bags, home décor and other novelty items. The group also assists a child development center in their community and gives employment opportunities to about 300 producers.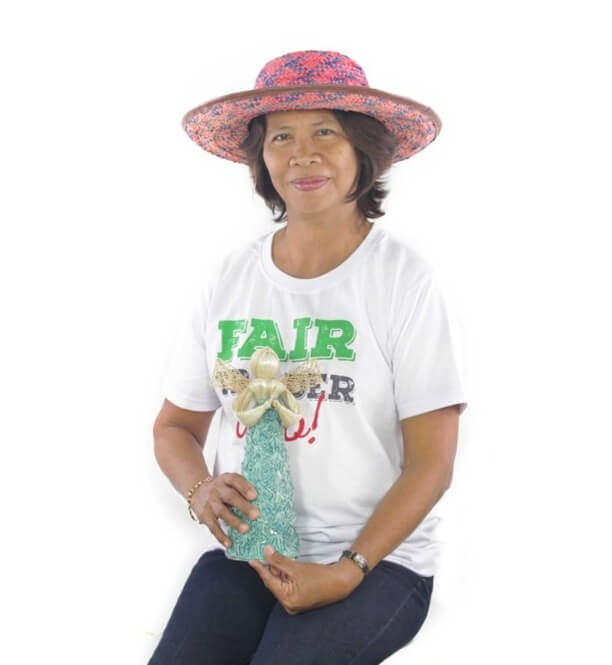 Hamyca Atbp. Handicrafts
Albay, Bicol
Owned and managed by Mrs. Marieta Roranes – Montas of Camalig, Albay and was established in November 2013. Hamyca stands for Hannah, Mycaella and Caleb, the three grandchildren of Mrs. Montas. Her parents started the craft – business in 1971 with a different name, there she learned many things about their craft line. They were making hats and bags out of abaca twine and raffia. Sooner they also made table accessories and baskets. Nowadays, Mrs. Montas added decorations to those crafts to make it trendy to the choice of the buyers.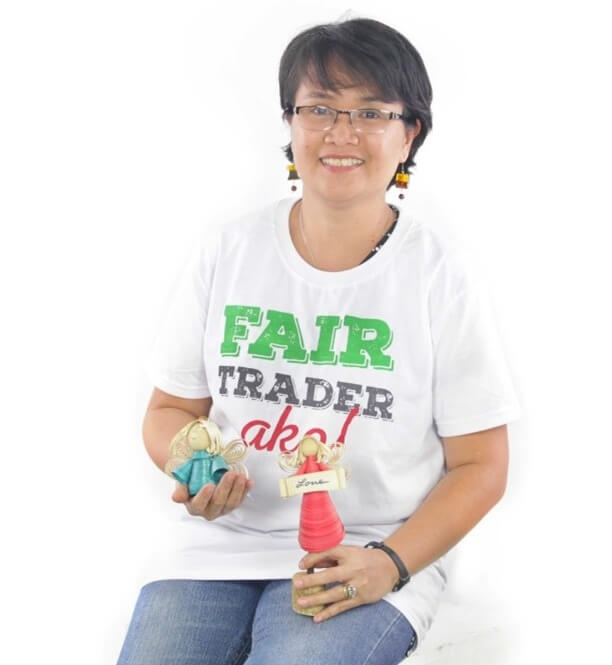 Love Handkrafted Shop
Sorsogon, Sorsogon
Mrs. Katherine "Yna" Dioneda – Espedido, is the owner of the shop which is located at Sorsogon City in Sorsogon. During her teen years, she really liked doing and creating crafts, especially for scrapbooks. She loved to make cute crafts that the teen generation will surely love. During her years in college, she continued doing what she'd fond of. She read many books including paper-quilling and related crafts. Her pieces became more colourful and attractive to the eyes. Then, she realized why not try to sell it. Plans and ideas are coming for the future until she started selling few items at first. Some of her precious items are key chains, earrings, wooden dolls, decors for scrapbooks, hair accessories, buri flowers and bags, decorative clocks, paper angels, nativity set and quilled-items. She also sells assembling materials for quilling purposes. Her original materials are buri and colored paper. Crafty years passed by, she added karagumoy and bariw on her materials. With her husband's support, she formally started the business in April 2011 and became connected with CCAP as of now everything is still very active.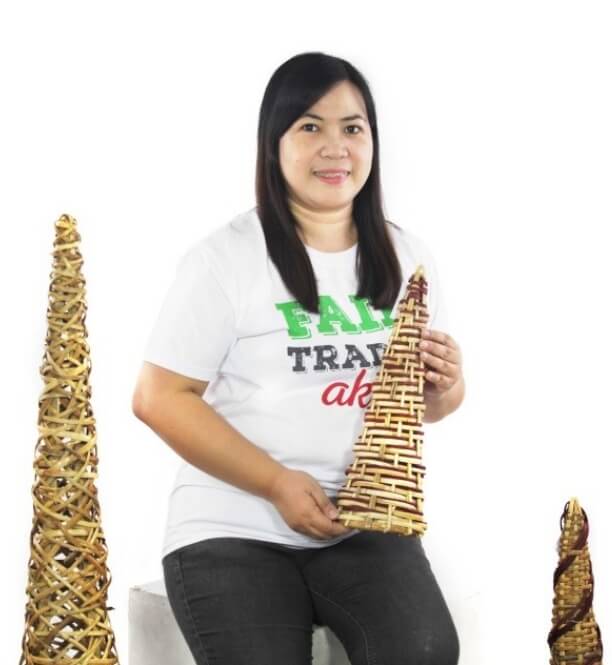 St. Michael Crafts Venture
Tayabas, Quezon
It was established in 1997 but in year 2000, Mr. Gerson and Mrs. Lucita Lames tried to start the exchange of conversation through letters to CCAP for their application on a possible partnership. Fortunately, they were approved and samples are requested to them, it was then approved again and orders are given next, continuous orders are still coming yearly for their crafts. The couple is very happy that they have been providing jobs to their community in Tayabas City, Quezon and helping promote fair trade in the field of handicrafts through their business. Their materials are rattan, hagnaya, abaca, buri rope, blackwood and brownwood. They create products which include rattan/hagnaya triangular cones, decorative balls made of abaca, baskets, and mirror frames.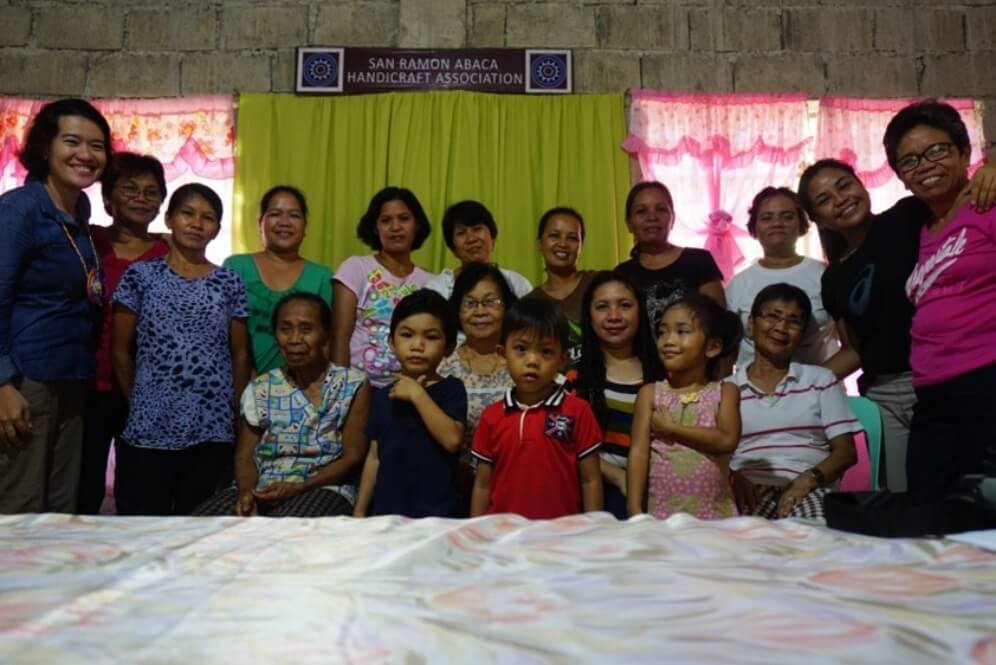 San Ramon Handicraft Association
San Ramon, Kalinao, Aklan
Weaving handicrafts made from Abaca is something not new from these women of San Ramon Handicraft Association. This industry of transforming ordinary abaca into something such as mats, slippers, mats, and bags etc. was passed down to them by their ancestors. It was only in October 2012, when they were formally organized as an association, through the help of a volunteer from Japan International Cooperation Agency (JICA). They were just around 15 members when they started. Today, they are composed of 53 members, mostly women.  Handicraft making helped them in providing for their daily needs and home improvements. However, they are still facing threats such as raw supply for abaca, personnel shortage, and low market demand.
Monlaque Agrarian Reform Coop
Monlaque, Ibajay, Aklan
Department of Trade and Industry, Department of Agriculture, and Department of Agrarian Reform helped to developed those including making handicrafts. The cooperative was formed on September 2010 with only 20 members. Handicrafts helped them provide additional income. Problems are running out of raw materials to meet the growing demand. Handicraft products are placemat, baskets, tray, holders, bags, coaster, all made of Nito available on their community.
Talisayon Multi-Purpose Cooperative
Talisay, Camarines Norte
The history of TAMUCO began in 1985 from twelve Augustinian high school teachers of St. Francis Parochial School as part of their "Paluwagan" that eventually developed through time with the help of other grants from foreign aid organizations. Today, they are one of CCAP's largest partner handicraft producers with over a little more than thousands of members. Most of their handicraft makers are women from their adopted communities. They make handicraft bags from Karagumoy and Pandan leaves; file organizers, basket, trays, and hats out of Abaca Twine. These women help earn income for their families and send their children to schools. Most importantly, it helps them improve their confidence as a woman.
General Luna Kabalikat Association (GENLUKBA)
Negros Occidental
Crafting handicrafts is something members of General Luna Kabalikat Association (GENLUKBA) learned from their parents. Their inherited skills able them to create different handicraft items such as wallets, sling bags, wine holder, fruit tray, laptop holder, and many more, out of Pandan – a plant easily found in their communities. The income they get from handicraft-making help them on providing for their needs in the family, especially if it is off season in the cane fields. It also helps send their kids to school.
GENLUKBA was started when members of World Vision visit their community as part of their "ABK3 Leap" project to end child labor. They became partner of CCAP when their president, Anecita Gemoya, attended CCAP's workshop on Framework development for Fair Trade, Resilient & Sustainable enterprises.